Let Us Find the Source of Your Headache
We know that a persistent or recurring headache can wreak havoc on your life, not only ruining your day but impacting your outlook on the days to come.
Our chiropractic team's goal is to trace the cause of your headache and any related symptoms so we can create a comprehensive, drug-free care plan to bring you comfort and freedom from pain.


Headaches With a Hidden Cause
Sometimes a headache is a symptom of pain somewhere else. Cervicogenic headaches are caused by referred pain from the neck.
This type of headache pain tends to be achy or dull but can sometimes be more intense. It's typically on only one side of the head, face, and neck. However, not everyone feels any pain in their neck with this type of headache, which can make it tougher to diagnose.
The pain of a cervicogenic headache might become worse when you cough or make a sudden movement. It can be intermittent or persistent. Untreated, a cervicogenic headache may become chronic, but care from a chiropractor can help manage your symptoms and bring you relief.
How Can a Chiropractor Help With Headaches?
Our goal at your first appointment is to learn what you're going through and whether we can help relieve your headache.
In your initial consultation, your chiropractor will discuss your symptoms, ask about your lifestyle, and talk about your goals for treatment.
Next, your doctor will perform a chiropractic examination, testing your reflexes, your ability to turn and bend, and other standard neurological, orthopedic, postural, and physical examinations. That said, we will not do anything during your assessment without your consent.
Sometimes, we'll take X-rays as part of our full evaluation, so we can rule out more serious conditions, including anything that may make a chiropractic adjustment unsuitable for you.
Sharing Our Recommendations
During your appointment, your chiropractor will give you a report of findings to answer 3 key questions:
Can you help me?
What do you recommend that I do to get better?
How much is it going to cost?
If we believe we can help, we'll explain our recommended treatment plan. If you have a condition that requires care from other providers, the doctor will let you know.
Treatment at the First Appointment
Patients will generally be provided with their first treatment at the end of the appointment. This often includes both rapid manipulation and slower mobilizations at different points along your cervical spine that may be contributing to your headache. Our recommendations might include physiotherapy treatments or soft tissue therapies.
Treatment is interactive, so you can always express any concerns you have about the style of adjustment or ask questions about the procedure.
Ongoing Care & Wellness Program
Finally, we'll provide you with a wellness program to follow at home that may include stretches and changes to your lifestyle that may support your relief from headaches.
Chiropractic works best as a phased approach, beginning by addressing pain, progressing to corrective care, and finally becoming about maintaining wellness through a series of appointments. Learn more about what to expect from chiropractic care.
Visit Us in Warwick
You can find the entrance to our practice on Toll Gate Road. Take the exit onto Calef Street, and you'll find us behind Laugh & Learn Academy and Cafe Tempo.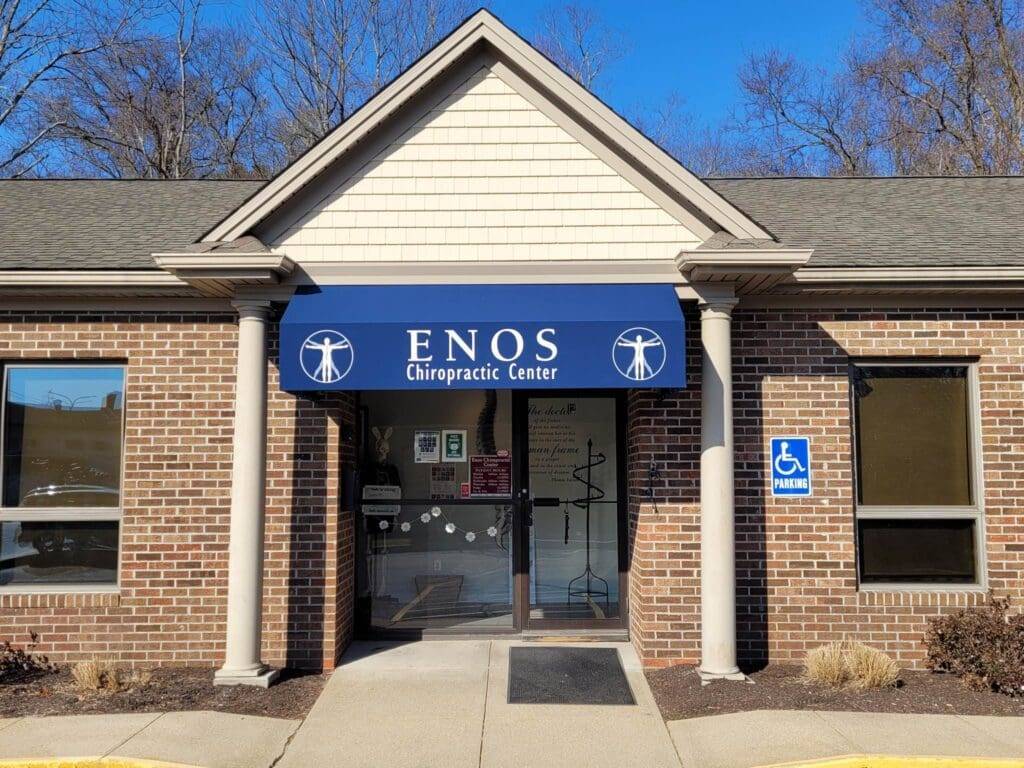 Our Address
12 Calef Street

Warwick

,

RI

02886
Hours of Operation
Monday

:

8:00 AM – 6:00 PM*

Tuesday

:

Closed

Wednesday

:

8:00 AM – 6:00 PM*

Thursday

:

8:00 AM – 6:00 PM*

Friday

:

Closed

Saturday

:

Closed

Sunday

:

Closed
*We are closed between 1:00 PM to 2:00 PM

Securing treatment for chronic back issues has been both necessary and rewarding - Dr. Enos and Center staff are knowledgeable, caring, and a pleasure to engage with -- best health move I've made in years!
Jennifer Thomson
2022-11-03
Dr Enos is Fantastic! Started seeing him due to a Car Accident and never left! He has kept me going, as well as Fixing my Almost Carpal Tunnel. I used to get pains in my wrists that would shoot up my arm, and after his wrist work. I have not felt that pain in over a Year! Working at a Computer for 17 years, and typing has taken its toll. But after seeing him, I no longer get those pains! Highly Recommend for more than just neck and back adjustments!
Dealing with migraines all my life, Enos Chiropractic Center is a game changer! From the first visit, I felt an immediate improvement in my neck and back. It is a natural alternative to medication. The staff is friendly and the scheduling process is a breeze. Highly recommend this office!
I've been going to Dr Enos For almost two years now and can't say enough about How great my experience has been. I feel so great my back is just wonderful do to Dr Enos.the office staff is simply put the best I highly recommend Enos Chiropractic Center !!!!
I cannot praise Dr. Enos and his staff enough. Dealing with scoliosis, chronic neck pain and chronic migraines I was desperate for even an ounce of relief. My neck pain and back pain is to a point where I can enjoy life again with minimal pain. My migraines have gone from extreme where I couldn't function to being able to function again while still some pain; however, the overall feel of them has drastically changed to a point I never imagined and the overall amount I get per month has been cut in at least half most months. As someone who was nervous about price as they do not take my insurance and as most have mentioned it can be expensive, I will say it's been worth every penny. Every goal he set for me at the initial consult we have met and then some.
I had chronic back pain for over 20 years. In less than 18 months I was feeling better at 33 than I felt at 12. Dr. Enos takes a precise, scientific approach that I have only ever found once before and is extremely effective. I strongly suggest to everyone i know get a check-up, even if they don't have symptoms. Keeping your spine healthy should be a more common preventative health routine in my opinion.
Dr. Enos and team have gone above and beyond to help me with a chronic sciatica issue I have been dealing with for years. Moreover, I've experienced an improvement in overall back health and recovery times thanks to the care received and guidance for at-home exercises. The office itself is extremely clean, well-organized, and relaxing. The staff are very friendly and flexible with working out a time that best fits the patient's schedule. Dr. Enos always answers my questions, ensures patient education is thorough, and has several times gone out of his way to perform extra research / recommendations based on other related health issues. If you're seeking a chiropractor, look no further than Enos Chiropractic Center - you'll be glad you did.
Katherine Grove
2022-08-11
Worth the time & money! I've never had a chiropractor examine me like they did and show me x rays to back up the diagnosis. Thank goodness I went to him when I did, I am working on my overall health and always feel welcome and heard. They do everything they say they're going to do and it is a great community feeling. Thanks Dr Enos!
Friendly, knowledgeable easy to work with
Crystal Langevin
2022-05-02
Always greeted by great staff when I come. They are so efficient on the way they set up appointments. Makes my day planning so much easier knowing that I will be my apt at the time I booked. Enos is great to work with to get you to the place you want to and feel.

Our Testimonials
"I no longer have constant pain and my legs feel great. I'm sleeping better. I haven't taken pain medication since I began treating with Dr. Enos."
Carol P. from Warwick, RI
"I thought I would just have to live with the pain I had. Driving, grocery shopping and certain household chores are much easier now. I love the way I feel!!"
Carolyn S. from Cranston, RI
"Dr. Enos takes the time to really 'listen' to my problems. A quality I feel is missing in most doctors!"
Paul O.